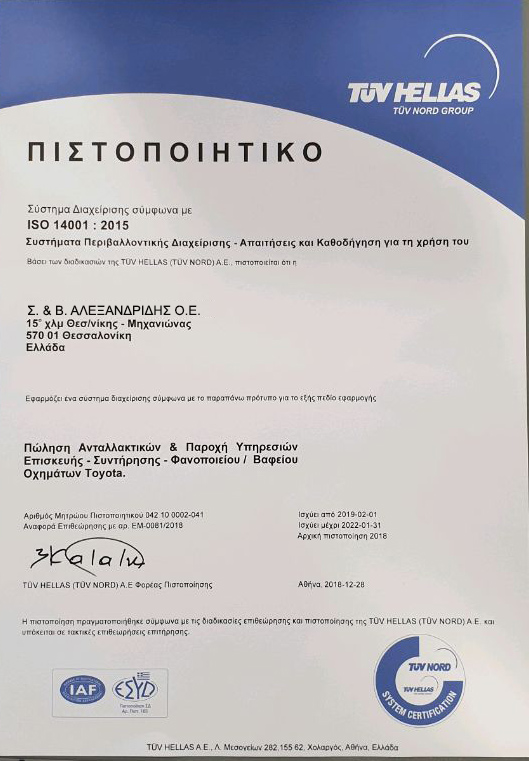 Press Release
TOYOTA has a long history in the field of management and environmental protection, while at the same time this issue has been at the core of its corporate culture since the early 70's.
At the same time, it has already demonstrated its sensitivity by acting effectively, based on the principle it advocates, contributing to the creation of a prosperous society through the construction of vehicles, while always conducting its business activities by placing environmental initiatives at the forefront of its administrative priorities.
Strong proof, its corporate strategy, <Toyota Environmenta Challenge 2050 », where the high investments that have been made so far in research, development and production of vehicles have created, among other things, economical and reliable gasoline engines, hybrid-electric engines, which are applied to its products, but also hydrogen fuel cell vehicles, such as the Mirai model.
As TOYOTA 's global goals are quite ambitious, there is no doubt that it has become imperative that all Toyota companies around the world immediately activate and intensify their efforts to live up to its environmental philosophy.
So, TOYOTA HELLAS recently renewed its environmental certification according to ISOO 14001: 2015 (until today it held ISO 14001: 2004), while at the same time based on the global environmental philosophy of TOYOTA, led the entire Network of Authorized Dealers and Repairers in Greece (66 points) at the same time our company S & B ALEXANDRIDIS .as an official member of its network to follow this model.     Today, environmental certification is another pioneer and uniqueness of TOYOTA in the Greek car market, as the brand has the only Network of Authorized Dealers and Repairers in our country with environmental certification according to ISO </ strong> 14001: 2015
The certification of S & B ALEXANDRIDIS was done in collaboration with the Inspection-Certification body TÜV HELLAS (TÜV NORD)
Toyota Corporate Strategy " Environmental Challenge 2050 " extensively develops the six (6) > key challenges for achieving its ambitious goals:
Challenge 1 : Production of vehicles with zero CO2 emissions
Challenge 2 : Lifetime CO2 Emissions
Challenge 3 : Zero emissions from Vehicle Plants
Challenge 4 : Minimizing and Optimizing Water Use
Challenge 5 : Creating a Recycling-Based Society and Systems
Challenge 6 : Creating a Future Society in Harmony with Nature
The President of ΤΜC , Dr . Akio Toyoda , has shown particular sensitivity on a personal level, in the actions of "Toyota Environmental Challenge 2050 ", after recently addressing TOYOTA members worldwide, stressed, among other things: " Nothing is impossible if all TOYOTA members worldwide unite their forces and minds, their love for cars and their love for our planet. "